Yamaha HS8 8-Inch Powered Studio Monitor, Black (Pair) HS-8 Mint HS8 (Used)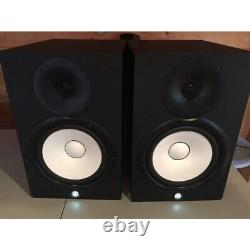 The Yamaha HS8 Powered Studio Monitor yields remarkably flat response from an 8" woofer and 1" tweeter that have been redesigned by the engineers at Yamaha to deliver uncompromising response so you can perfect your mixes! The HS8 active monitor is ideal for studios that want accurate low end response without an additional sub.
The Yamaha HS Series studio monitors feature newly developed transducers that give amazingly smooth response over a wide range of bandwidth. These transducers utilize an advanced magnetic field design that regulates the flow of magnetic response to provide seamless, natural sonic transitions. HS series monitors deliver outstanding monitoring performance, enabling you to get your mixes just right.
Even better, you can take your accurate monitoring on the road. The HS8 boasts room-control and high-trim response controls that let you tailor your monitors to your room for optimal response. So whether you're in a control room or in a cramped remote truck, you'll always be able to trust your monitoring.

---