Pair Presonus Eris E3.5 3.5 Powered Studio Monitor Speakers+Microphone+Shield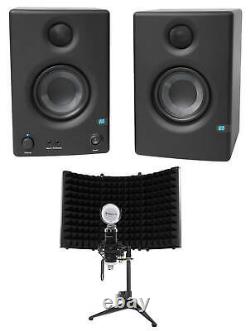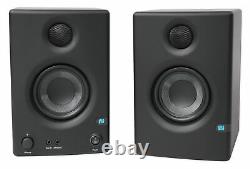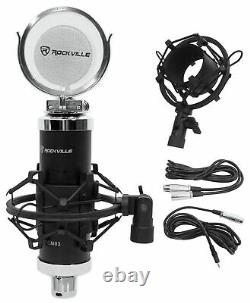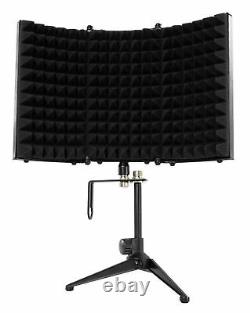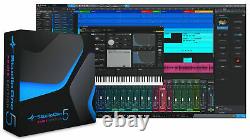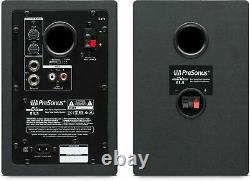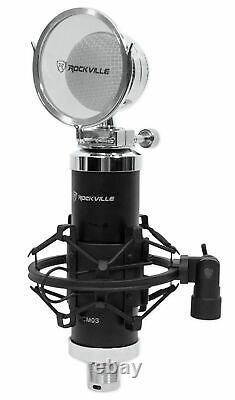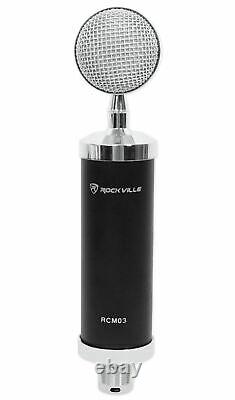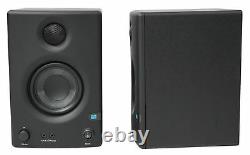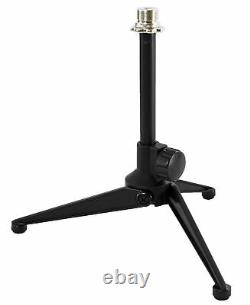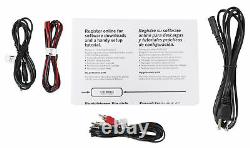 Condition: BRAND NEW IN ORIGINAL PACKAGING. (1) Rockville RCM03 Pro Studio Recording Condenser Microphone Mic+Metal Shock Mount. (1) Rockville RockShield 1 Studio Microphone Isolation Shield w/Sound Dampening Foam.
Studio one Prime DAW recording/streaming software. Description of Eris E3.5. PreSonus Eris-series studio monitors are used worldwide by audio engineers who need to hear every detail of their recordings. Ideal for gaming and home video production, the Eris E3.5 employs the same technology as the larger Eris models to deliver studio-quality sound, with a smooth and accurate frequency response. Yet theyre compact enough to fit almost anywhere.
Kevlar woofers deliver a cleaner overall sound. Every Eris-series studio monitor utilizes a custom-woven Kevlar low-frequency driver.
The weave and nature of the Eris E3.5s 3.5-inch Kevlar woofer result in a more constant dispersion pattern throughout the frequency range, resulting in less time-smeared audio and cleaner overall sound. Smooth high end and wide sweet spot.
The Eris E3.5 is equipped with a one-inch silk-dome tweeter that produces a smooth and refined sound, accurately reproducing transients and high frequencies. The tweeter is designed to radiate sound with a fairly wide dispersion pattern, creating a large optimal listening area or sweet spot so you can move around and still hear everything accurately.
A speakers response is affected by where you place it and the acoustics of your space. Thats why Eris E3.5 active media reference monitors offer easy-to-adjust high- and low-frequency controls. A convenient front-panel volume knob sets both the speaker level and the integrated headphone amplifier level. Be careful with that volume knob, though: Eris E3.5s are driven by an onboard 25 watt/side power amplifier and can get a lot louder than you may expect, while still delivering clear, accurate audio. Connect to virtually any line-level source.
With three different types of audio inputs, its easy to feed audio to your Eris monitors from a mixer, an interface, a media player, or almost any other line-level source. The Eris E3.5 is equipped with rear-panel, ¼-inch TRS and RCA inputs, as well as front-panel -inch stereo, unbalanced line inputs for use with mobile audio devices.
With this selection, youll have no problem hooking your Eris speakers up with virtually any line-level source, including your Smartphone or tablet. The loud, clear, front-panel headphone amplifier lets you work and play in stealth mode, without disturbing your housemates. Like all PreSonus monitor speakers, the Eris E3.5 offers consistent, accurate listening, with the smooth and even frequency response that has made Eris monitors popular around the world.
Their compact and powerful design makes them an ideal solution for any small space. Pair compact Eris E3.5s with PreSonus powerful Temblor® T8 active subwoofer for a truly full-range sound system that fits almost anywhere. Pair PreSonus Eris E3.5 3.5 Powered Studio Monitors Speakers with Acoustic Tuning.
3.5-inch (89 mm) Kevlar® low-frequency transducer. 1-inch (25 mm), ultra-low-mass, silk-dome, high-frequency transducer. Rear-firing acoustic port for superior bass-frequency reproduction. High- and low-frequency tuning controls.
Front-panel Volume control for speakers and headphone amplifier. 50 watt (25W/side), Class AB bi-amplification.
RF interference, output current limiting, over-temperature, transient, and subsonic protection. Amplifier soft start feature eliminates popping on power-up.
Internal power supply with IEC connector. Power switch with on/off LED. Balanced ¼-inch TRS, unbalanced 1/8-inch stereo, and RCA inputs. Integrated stereo headphone amplifier with front-panel 1/8-inch output. Inputs: (1) Stereo 1/8" , (2) Balanced 1/4" TRS, (2) Unbalanced RCA.
Frequency Response: 80 Hz - 20 kHz. Crossover Frequency: 2.8 kHz.
LF Driver: 3.5 Kevlar. HF Driver: 1 Silk Dome. MF Control: Variable (-6 to +6 dB, center 100 Hz). HF Control: Variable (-6 to +6 dB, center 10 kHz).
Product Dimensions (H x W x D): 8.3" x 5.6" x 6.4 inches. Product Weight (Per Pair): 6.4 Lbs. For the Owner's Manual.
For the Quick Start Guide. Studio One Prime provides everything you need to get started in content creation and audio production. Create your own music and podcasts as intuitively as possible with a single-window, drag-and-drop workflow that will make you wonder why you put up with other software that isnt designed the same way. Studio One Prime is designed to keep you in the creative flow by providing powerful tools that help you when you need themand stay out of your way when you dont. Youll supercharge your creativity with its unlimited tracks, buses and a powerful complement of virtual instruments and native effects that sound just as good (and frequently, better) than third-party effects. Guitarists will love the new third-generation Ampire tech that has the most realistic amp and cabinet simulations weve ever made. Fans of EDM and hip-hop will appreciate Studio Ones Pattern Editor, which allows for intuitive drum and melody composition via a familiar drum-machine inspired UI, which might be just about the most fun and rewarding music-creation technique out there. Only Studio One 5 Prime lets you truly create without boundariesfor free.
And when youre ready for more features, it's easy to move up to Studio One Artist, Studio One Professional, or get it all with PreSonus Sphere. Record, produce, and mix easily, all from a single, intuitive application.
Intuitive single-window work environment with quick and easy drag-and-drop functionality and multi-touch support. Unlimited audio and instrument tracks, virtual instruments, and FX channels. Powerful Presence XT virtual sample-player for keyboard and synth sounds. Patterns allow for intuitive drum and melody composition via familiar drum machine/step-sequencer style UI.
Completely redesigned Native Effects plug-in suite. Music creation is a lot like a magic show. You've got an audience to impress and a lot of tricks up your sleeve; success requires a combination of real talent and perhaps a little bit of smoke and mirrors.
At PreSonus, we want to make sure that our audio products come with everything you need to craft your own mesmerizing spells in the studio. Thats why we include Studio One Artist with every audio interface and controller product we make, from the 2-channel AudioBox USB 96 to the 64-channel StudioLive 64S, ATOM to FaderPort 16, but we didnt stop there. Because here in Louisiana, we have a word: lagniappe. It means a little something extra, and its in that spirit that we also include the Studio Magic Suite of software with our audio interface products andnew for 2021our award-winning controllers and studio monitors as well. That means you'll have a broader assortment of spellcasting ingredients for Studio One straight out of the box; all created by the best developers in the business.
You'll be able to go wild with funky R&B drums and synths from beyond the sound of timeor add professional sheen and dynamics to ensure your mixes are a cut above the rest. Arturia Analog Lab Intro: Analog Lab Intro gives you access to the most iconic synth and keyboard sounds of all time, taken from our 28 expertly-crafted V Collection instrument emulations. From analog synthesizers to revolutionary digital workstations, these are the sounds that made history.
Brainworx bx_opto: The Brainworx bx_opto compressor combines the best aspects and anomalies from several legendary, light-dependent compressor circuits. The result is a powerful dynamics processor, teeming with character and delivering sounds that cant be achieved with analog optical compressors.
Brainworx bx_rockrack: The bx_rockrack V3 boasts eight famous amp models in a single plugin. On top of that, 40 impulse responses are included, offering just the right variety of tone and timbre for your guitar rig. Brainworx gives you a powerful selection of perfectly-recorded boutique cabinets captured with complete effects chains from studios featuring great sounding amp rooms and stellar gear. Each amp was painstakingly recorded by professional audio engineers who make their living by capturing tone. The Surrealistic MG-1 Plus delivers fat analog tone in spades, along with a unique polyphonic oscillator section, "bell tone" ring modulation, glide, auto repeat note triggering, oscillator sync, and a number of improvements that tremendously expand its capabilities.
Surrealistic MG-1 Plus works seamlessly as a plugin inside Studio One and is available in AU, VST, VST3, AAX, and standalone formats. Cherry Audio Voltage Nucleus: The ultimate introduction to modular synthesis, Voltage Modular Nucleus is a collection of 22 modules and 67 presets. This package includes all of the fundamentals of subtractive analog synthesis, including oscillators, filters, envelope generators, amplifiers, and mixers, plus a sequencer, arpeggiator, and a full suite of useful utility modules and powerful effects modules. With Voltage Modular Nucleus, you can discover the thrill of patching modules together in new and endlessly creative ways and explore all of the capabilities of Voltage Modular. Ghosthack Essential Sounds: Ghosthack Essential Sounds is the perfect sound pack for music producers and content creators alike.
Expect professional one-shots, loops, MIDI files and full music tracks. IZotope Neutron Elements: Neutron Elements is the latest addition to iZotopes Neutron family of mixing plug-ins featuring futuristic, assistive technology and four fantastic-sounding audio processors: Compressor, EQ, Exciter, and Transient Shaper.
Like having a virtual assistant, Neutron Elements will listen to your audio, identify instruments, and offer custom starting points for your mix decisions while leaving the creative control to you. Optimized for mixing, use Neutron Elements on dozens of tracks to diagnose mix problems, carve away muddiness and reveal new sonic possibilities in your mixes.
Klanghelm SDRR2tube: Add warmth, depth and character to your tracks with Klanghelm SDRR2tube. SDRR2tube can be a saturation processor, a compressor, an EQ, a bit-crusher, or a subtle stereo wideneror it can simply add movement to your tracks. A comprehensive set of controls enables you to manipulate the character of the saturation to make it sit perfectly in your mix. KV331 Audio Synthmaster Player: SynthMaster Player is a simplified version of SynthMaster with limited editing capabilities designed for users who prefer to use presets rather than designing their own sounds. It comes with 1800 factory presets.
Users can edit the 12 easy parameters or the bypass states of layer/global effects assigned for each preset by the sound designer. Lexicon MPX-i Reverb: Lexicons MPX-i Reverb delivers seven classic Lexicon plate, hall, chamber, and room reverbs. A streamlined interface and 100 versatile, finely crafted presets enable you to quickly get the sound you want.
Input and output metering let you monitor levels at a glance. Mäag Audio EQ2: Mäag Audio EQ2 delivers the sound of the Mäag Audio EQ2 two-band hardware equalizer. Mäag Audios EQ design allows for exceptionally low phase shift across all EQ adjustments, which helps maintain the integrity of your mixs original sound while enhancing the very high air frequencies. An input attenuator lets you normalize levels after applying EQ. Melodics: Melodics is the ultimate tool for developing your playing skills and building better practice habits. Musicians around the world are using it to stay motivated with their daily practice, work on their rhythm and timing, and practice with music they love. Unlock an exclusive course of piano lessons for free with your qualifying PreSonus product.
Native Instruments REPLIKA: REPLIKA packs two professional quality delays and a powerful diffusion algorithm into a sleek, streamlined interface. Simple to use with a resonant filter and classic phaser built in, REPLIKA is a versatile delay for anything from subtle slapback to warped sheets of noise.
Output Movement: Transform any instrument, synth, raw sound or full track in real time with Output Movement, an exciting effects plug-in for the studio or stage that adds powerful rhythms to any input in real-time. Movements four rhythm engines with sidechains, proprietary Flux mode, LFOs, step sequencers, and macros blend seamlessly. Analog modeled effects optimized for modulation let you add rhythm with reverb and compressors pumping, filters and EQs opening and closing, delays morphing, and tube distortion warming and cooling. Soundsnap: Soundsnap is home to over 380,00 high quality, project ready, sound effects. Soundsnap members include filmmakers, podcasters, game designers & musicians.
Working with some of the worlds best recordists & sound designers guarantees top-quality sound effects ready to be used in your next project. Wav today by joining the number one SFX source for some of the industries biggest names. SPL Attacker Plus: The SPL Attacker Plus Microplug delivers part of the same magical envelope shaping provided by the original Transient Designer hardware, replicating the edge and punch provided by the Attack knob. Providing just a single knob that lets you dial in all the transient punch you could ever need, Attacker Plus also sports a soft peak limiter and a dry/wet control, allowing total flexibility across a wide range of content and a worry-free workflow in the digital world. UJAM Virtual Bassist ROWDY: Let us introduce Virtual Bassist ROWDY your loudmouthed, high-energy bassist with bite!
If your bass has to cut through heavy drums and a wall of guitars, ROWDY is the perfect solution. With a hand-picked, heavily modified vintage bass guitar, hot amps, a fuzz box and even an octave guitar. Its definitely a rocker and could use a shower, but were too scared to ask.. UVI Model D: Experience the presence and power of a Concert Grand Model D, captured in one of the finest studios in the world with deep tone-shaping tools, pro-grade effects, and adjustable mic positions.
Model D delivers a finely tempered software piano exhibiting the effortless playability and sound of a real concert grand. Each note was carefully multi-sampled at a number of velocity levels with and without sustain. These samples were then carefully scripted with advanced keygroup layers and rule switching provided by the UVI Engine, allowing the sustain pedal and release samples to articulate in a natural way, reflective of the physical instrument to ensure the most natural feel and the best playability possible. This model is similar to our RCM01 however it is made of aluminum, and the frame is slightly larger.
We also upgraded this model to a high end metal anti-wind cap! We highly recommend this design.
Multi-Purpose Designed for crystal clear capturing of vocals, acoustic and amplified instruments, as well as room reverb. The aluminum construction makes the RCM03 tough enough for Live sound applications as well! This microphone can be used in multiple ways.
You can connect this to the phantom power of your mixer or you can connect it directly to your computer sound card. We include a cable to connect it to your mixer as well as a cable to connect the mic to your computer! Quality built inside and out!
The microphone is made of aluminum. It is very rugged and tough like you would expect from any Rockville product. This microphone has a large diaphragm which is what enables our mic to deliver a wider range of high and low frequencies than our competitors. Our frequency range is tested at 30HZ 20KHZ! The mic sounds crystal clear sound with no distortion!
The PCB (circuit board) uses surface mounted components which is the same method the expensive brands use. We use only top components that under-go extreme testing by our own audio engineers. The last thing that I need to mention and call out is that our product is very sturdy. When you are recording, you do not want even the slightest noises coming from your mic.
The microphone consists of a casing and there is a cartridge inside the case. You do not want that cartridge moving around. We made sure to adjust our mechanism and ensure the cartridge is firmly in place and not creating any unwanted noises. RCM03 Condenser Microphone made of aluminum! 100% Copper 10 foot 3.5mm jack to XLR cable to connect mic to your computer or other device. 100% Copper 10 foot XLR to XLR cable to connect to any mixer with phantom power. Rockville RCM03 Pro Studio Recording Condenser Microphone Mic+Metal Shock Mount.
Polar Pattern: Internally Polarized Condenser Cardioid Design. Large diaphragm for smooth, natural sound and low noise. Power Requirements: 48V DC phantom power or computer sound card (can connect to the phantom power channel of your mixer or can connect to your laptop or computer). Output impedance: 200±30%(at 1kHz).
Operating voltage range: 1.5V-10V. Current consumption: less than 500uA.
Voltage deduction characteristic: within 3dB at 2V. S/N ratio: More than 24dB. Frequency Response: 30Hz - 20 KHz. Fixed Crossover Filter cutoff frequency: 40Hz---16 KHz. Load impedance: Greater or = to 1000 Ohms.
Equivalent Noise level: Less than 18dB A (IEC581-5). Input SPL: 126dB(THD1.0% at 1kHZ). Electrical current: Greater than 4.8Ma.
Microphone body net weight:320 Grams (0.7 Pounds). Diameter 44mm (1.73 inches). Microphone Length 217mm (8.54 inches). Microphone material: steel grille + Alluminum (handheld part). About Rockville Quality Control Procedures. The Rockville brand stands for Quality, Innovation and Value. All Rockville products go through the most rigorous quality control standards in the industry. Products go through months of extensive testing before they reach your hands. All user functions are tested and all internal components are tested for quality.
Rockville makes products that are virtually un-breakable! Rockville is one of the only brands in its class to test every concept model for weeks or months before starting production. Once production begins, Rockville sends product engineers to their factory to quality control every line of production. During production every product is tested and on top of that Rockville goes the extra mile and has their high level product engineers do an additional quality control.
They test a certain percentage of all products from the production line a second time to ensure that the quality meets their vigorous standards, and to make sure that there is never a batch of products with even a slight problem. What's In The Box. 3 Panel Mic Isolation Shield. Hardware to Mount unit to your mic stand. 5/8 Mic Adapter and 3/8 Mic Adapter.
All metal Tripod Desktop mic attachment. How to Set Up Your RockShield 1. Rockvilles RockShield 1 compact studio microphone isolation shield is the latest addition to our ever growing line of Pro Audio studio accessories.
Featuring 1.5-inch-thick high density acoustic foam, the RockShield1 keeps unwanted outside audio waves and vibrations from affecting your recording. By creating an acoustic boundary around the microphone, vocal audio flow is improved.
Your voice is redirected to the microphone, while room reflections are prevented from directly entering the recording area. The end result is you will achieve a crisper and cleaner sound. This shield can be mounted to compatible microphone stands or used in a fixed location, like a counter top or tabletop.
Easy installation and studio quality performance will quickly make the RockShield 1 your go-to sound dampening isolation shield. Rockville RockShield 1 Studio Microphone IsolationShield with Sound Dampening Foam. Number of Panels: 3 Pieces. Dimensions Each Panel: 8.2'' x 4.5'' inches.
Dimensions Assembled Unit: 11'' x 4.3 x 16.3 inches. Keeps Excessive Room ambience and Off Axis Sound from interfering with your microphone when recording acoustic and vocal tracks. Isolates Directional Microphones from Off Axis Coloration.
Limits External Bleed from Unintended Sound Sources. 1.5 Thick High Density Pyramid Acoustic Foam. Front and a vented metal back plate for the Best Noise Reflection Reduction. Can be used in fixed location. Provides Vocal Booth Style Recordings with Minimal Footprint. Rugged Finish Makes This Easy to Transport. Tri-Pod Foot Design for Stability on Flat Surfaces. Mic Stand with 5/8 Adapter. The shield frames are made of high strength die cast aluminum. Net plates are made of high grade steel. Net Weight (Without Tripod Stand): 1.1 lbs. Net Weight (With Tripod Stand): 2.0 lbs.
If your item is defective or you want to return it for any reason within the first 30 days of when it was delivered to you; you have the following options. We will send you a.
To replace the item for a brand new one. All replacements and exchanges are free. Item Code: Eris E3.5+RCM03+RMF1. The item "Pair Presonus Eris E3.5 3.5 Powered Studio Monitor Speakers+Microphone+Shield" is in sale since Tuesday, February 9, 2021. This item is in the category "Musical Instruments & Gear\Pro Audio Equipment\Studio/Live Equipment Packages". The seller is "audiosavings" and is located in Inwood, New York. This item can be shipped to United States, Canada, United Kingdom, Denmark, Romania, Slovakia, Bulgaria, Czech republic, Finland, Hungary, Latvia, Lithuania, Malta, Estonia, Australia, Greece, Portugal, Cyprus, Slovenia, Japan, China, Sweden, South Korea, Indonesia, Taiwan, South africa, Thailand, Belgium, France, Hong Kong, Ireland, Netherlands, Poland, Spain, Italy, Germany, Austria, Bahamas, Israel, Mexico, New Zealand, Philippines, Singapore, Switzerland, Norway, Saudi arabia, Ukraine, United arab emirates, Qatar, Kuwait, Bahrain, Croatia, Malaysia, Brazil, Chile, Colombia, Costa rica, Dominican republic, Panama, Trinidad and tobago, Antigua and barbuda, Aruba, Belize, Dominica, Grenada, Saint kitts and nevis, Saint lucia, Montserrat, Turks and caicos islands, Barbados, Bangladesh, Bermuda, Brunei darussalam, Bolivia, Ecuador, Egypt, French guiana, Guernsey, Gibraltar, Guadeloupe, Iceland, Jersey, Jordan, Cambodia, Cayman islands, Liechtenstein, Sri lanka, Luxembourg, Monaco, Macao, Martinique, Maldives, Nicaragua, Oman, Peru, Pakistan, Paraguay, Reunion, Viet nam, Uruguay, Russian federation.
Brand: PreSonus
MPN: Eris E3.5+RCM03+RMF1
UPC: 613815774884
Type: Studio Monitor
Model: Eris E3.5+RCM03+RMF1
Active/Passive: Active
Features: Amplified
Bundle Listing: No
Country/Region of Manufacture: China

---