Pair of Vonyx SPJ1200ABT 12 Active Powered Speakers with Bluetooth & Bags 1200W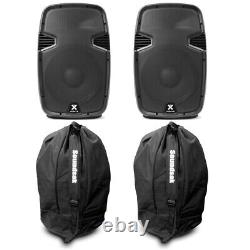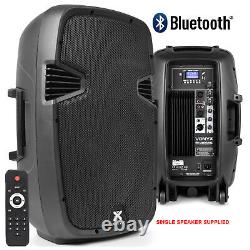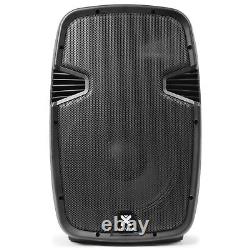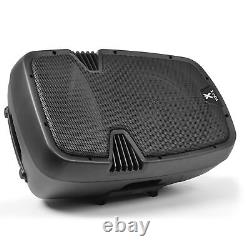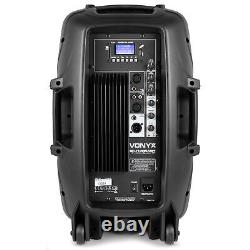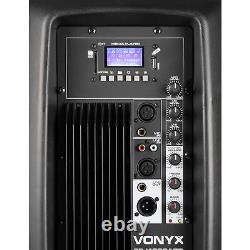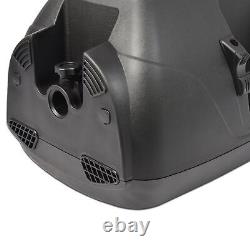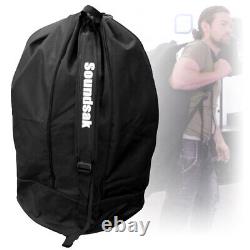 Pair of Vonyx SPJ1200ABT 12 Active Powered Speakers with Bluetooth & Bags 1200W. The Vonyx SPJ1200ABT 12 Bluetooth Active PA Speaker Pair with Bags 1200W is the perfect combination of Active Powered Speakers. This Powered Speaker Package provides all the power you need to make your next performance or event a success. When it's time to transport your speakers, the Mini Universal Fit Speaker Bags included in the kit is the perfect solution. Made of tough PVC material, these bags are designed to fit most speakers of up to a 12 inch, heavy casing cabinet. With the Bluetooth technology and MP3 playing via USB/SD input, you can get a powerful sound reproduction wherever you are. You can also adjust the line and mic input with bass & treble controls for the perfect sound. This speaker package is designed to last. By combining an ABS cabinet with an impact resistant moulded enclosure, you can be sure that your Powered Speaker Package will be protected from damage even in the toughest conditions. The Vonyx SPJ1200ABT Active Speaker Pair has all the features you need for your next event. With its built-in 600W amplifier, as well as its Bluetooth technology, line output and MP3 player, you can trust that it will provide you with everything you need. 1200W active PA speaker pair with bags, ideal for events in medium-sized venues like halls and function rooms. Bluetooth technology to pair a smart device and stream audio wirelessly through the active powered speakers. 2-way driver layout with 12 woofers and wide-dispersion horns for effective sound reproduction. Microphone and line-level inputs to connect a variety of devices to the powered speaker package. Fully adjustable bass and treble controls allow you to tailor the frequency output to your liking. Includes 2x Vonyx 178.042 12 Inch Active Bluetooth DJ Speaker 600W 2x SoundSak SOUNDSAK MINI Speaker Bag Universal Fit Cover Case Up To 12 Inch. BBA0687 - Vonyx 12 Bluetooth Active Speaker MP3 USB SD DJ PA Disco Karaoke Party 600W. The SPJ-1200ABT from Vonyx; a powerful active, 12 inch DJ/PA speaker in a strong build ABS cabinet with superb sound reproduction. Featuring integrated Bluetooth technology, USB ports and more. This self powered system can be used as a set or stand-alone and is an ideal choice for use in bars, restaurants, small halls, fitness, conference rooms and on stages. Built-In 600W Amplifier with Crossover.
12 Extremely Powerful Mid-Low Woofer. MP3 Playing via USB/SD Input. Line and Mic Input with Bass and Treble Controls. Stand Mounting with 35mm Pole Socket. Frequency response: 50Hz - 18kHz.
Dimensions: 295 x 375 x 585mm. Vonyx 12 Bluetooth Active Speaker MP3 USB SD DJ PA Disco Karaoke Party 600W. Video will open in a new window. HHA0825 - Travel Case Cover Bag for Speakers DJ Disco Universal Fitting Up To 12 Max.
Introducing the new SoundSak-Mini, the smaller sized, universally fitting carry bag, that takes care of your speakers, or other equipment's transportation needs, with no fuss or frills- just as you need it - when you need it. The perfect solution for all mobile DJ's, bands, and live performance artists in general.
Main Features Tough PVC Material Over Shoulder Carry Strap Stitched Carry Handle Universal Speaker Fitting Holds Other Equipment It's A Rocky Road Live performances, regular touring or even rehearsals can really take their toll on speakers. The general bulkiness of them, naturally makes them prone to damage, cracks, chips, or even light scratching, and let's face it, the more you do it, that little bit less care is taken in moving them about, that's where SoundSak, steps in and helps you out.
You may well have looked into transport bags in the past, what did you find? Let me tell you - low cost, specific fitting and little durability OR high cost due to branding, better durability but still specific speaker cabinet size limitation! SoundSak has been designed and manufactured with as little complication as possible, while maintaining high standards that will still keep your goods in good condition.
An over-the-shoulder carry strap for ultimate comfort or a top-stitch mounted handle, you're covered. The tough PVC material composition will take away those concerns of damage to your brand new set of piano gloss black cabinets from any dragging or scuffs from object brushing. It's Just Soooo Fitting SoundSak has been manufactured to fit universally, pretty much guaranteed to fit most speakers of up to a 12 inch, heavy casing cabinet, or even a smaller sized pair of monitors. Universal Speaker Fitting (Up to 12 Inch). A tracked service is available when you select a 48 hour or 24 hour courier service. Due to our carriers charging extra for Highland and Islands, we need to pass this charge onto our customers. Where do you deliver to?
We deliver to the UK, Ireland and internationally covering most of the EU, including. All deliveries will require a signature so please ensure someone is present to sign for the item. The couriers will try and deliver the item twice before returning the item to us.
Thanks for shopping with ElectroXtra. Up to 60 days since order. Existing product must return brand new with original contents. Item must be damaged or have a manufacturing fault.
No cost to you unless the item isn't faulty or damaged. Condition must be in'as good as new' and unused.
Up to 2 years since order. Cost of sending the item back. Within 60 days since purchasing your package, if you decide you want something with a little better you can send it back to us and we'll happily upgrade your order, however what is sent back to us must return brand new and include your products' original box and all of its original contents and inserts (such as the booklet). Rest assured, our team are entertainment industry experts and are there to listen to and discuss any ideas or issues you have with your product, imparting wise advice on which product would be ideal for your requirements. Customers must pay for any costs related to returning the item as we do not offer a collection service for unwanted items.
Please reach out to our customer service to return a faulty or damaged item. However, if we discover that the product has a manufacturing fault that results in the item being unrepairable we will instead offer a replacement for you.
If during our investigation, we've discovered any user error or misuse with the item, we will instead provide you with an engineer report of the problem and advice on how to prevent future damages, as well as reach out to you to discuss proceeding further. To clarify, this is so that we can offer you the highest quality Customer Service and we are able to track your return when it arrives back at the distribution centre. Your return will be evaluated by our engineers to determine the validity of the case at hand, if the product is found to be in a used condition or indeed there is anything missing from or including the original box we reserve the right to deduct reasonable costs in relation to the condition we have received your return.
Upon request, we can provide photographs for you to supply to the courier, however, we cannot be held liable for the cost of this loss. How do I find the item number or product code?
The product code of the item is displayed in orange text to the right hand side of the main image in the description. It will be displayed as a seven-figure code e. Can I amend my order? Before dispatch: you can amend your order, or cancel your order at any time. What if I have not received my order? What if the item(s) received are faulty or damaged? Please note that a cheque transfer may take up to 10 days to process, however. When will I receive confirmation of my order? Will you accept offers on price? All of our listings are given a non-negotiable, fixed price. However, If the item is B-stock, clearance or damaged we may accept offers on price. Will you reserve an item for me?
On a case-by-case basis, we may allow you to place a deposit to reserve an order. Our standard deposit is 30% of your gross order value, however this is subject to change depending on the nature of the order. What are my rights of cancellation on reserved items? In the event that you wish to cancel your order after we agreed for you to pay a deposit i. You have reserved an order but not paid the full amount for the order, your deposit is not refundable.
This is mainly to cover abnormal costs incurred by us, like (but not limited to) custom products, design work taken place, cancellation of 3rd party contracts e. Please check the listing for details. Can I come in store and collect my item(s)?
Sorry - we do not accept reservations on items. How can I return my item?
It is the responsibility of the customer to return the item. We may have already answered popular enquiries and questions on our FAQ page. If you have any enquiries, concerns or questions about your order, our policies or any of our products: our friendly customer service and sales team are on hand to assist you with anything you may require.
We are open 6 days a week, excluding bank or public holidays & annual holidays. We are open 5 days a week, excluding bank or public holidays & annual holidays.

---