Pair JBL 104 Powered Studio Monitors withBluetooth+Headphones+Mic+Stand 104SET-BTW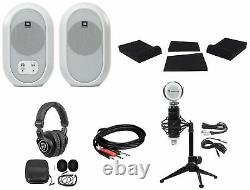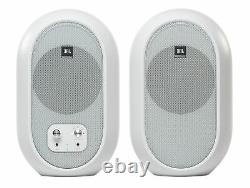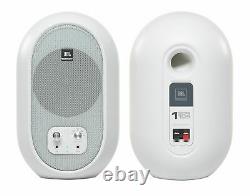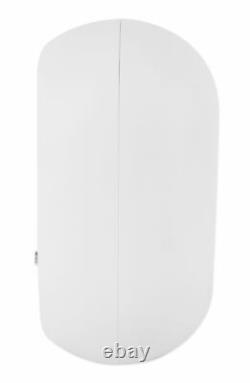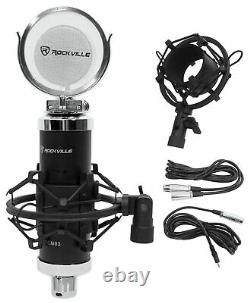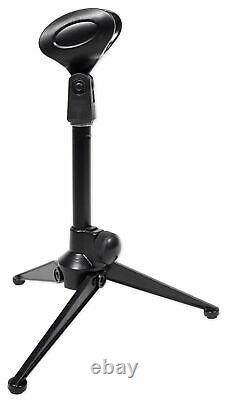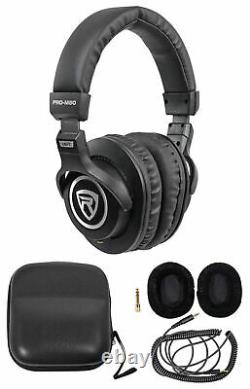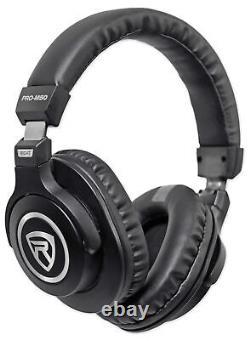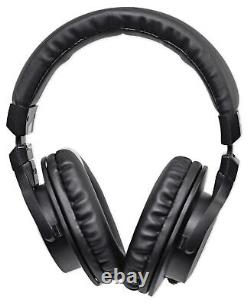 Package: JBL 104SET-BTW Pair Compact Powered Active Studio Reference Monitors Bluetooth + Rockville PRO-M50 Studio Headphones w/ Detachable Coil Cable, Case+Extra Ear Pad + Rockville RCM03 Pro Studio Recording Condenser Microphone Mic+Metal Shock Mount + Rockville RDTS Adjustable Height Studio Desktop Tripod Microphone Stand+Mic Clip + Pair Rockville RRS190S Foam Studio Monitor Isolation Pads 7.5" x 9.5"/3 Angles + Hosa CMP-159 10' 3.5mm 1/8" TRS to Dual 1/4" TS Cable - 10 Ft. Condition: BRAND NEW IN ORIGINAL PACKAGING. (1) JBL 104SET-BTW Pair Compact Powered Active Studio Reference Monitors Bluetooth. (1) Rockville PRO-M50 Studio Headphones w/ Detachable Coil Cable, Case+Extra Ear Pad. (1) Rockville RCM03 Pro Studio Recording Condenser Microphone Mic+Metal Shock Mount.
(1) Rockville RDTS Adjustable Height Studio Desktop Tripod Microphone Stand+Mic Clip. (1) Pair Rockville RRS190S Foam Studio Monitor Isolation Pads 7.5" x 9.5"/3 Angles. (1) Hosa CMP-159 10' 3.5mm 1/8" TRS to Dual 1/4" TS Cable - 10 Ft. JBL 104-BTW compact reference monitors with Bluetooth, the newest models in the 1 Series line, draw from seven decades of JBL Professional engineering to deliver the truest, most accurate sound in their class.
They're perfect for recording musicians, producers, podcasters and vloggers, as well as professional audio engineers seeking an accurate portable reference with Bluetooth streaming. Both the White versions are sleek, elegant designs with compact form factors, making stunning statements in any studio while conserving valuable work space.
Creative professionals, music lovers and anyone who wants the flexibility to stream both wired and wireless sound into high-quality studio monitors can count on JBL 104-BTW to provide an accurate, reliable sonic reference and a truly enjoyable listening experience. Proprietary coaxial driver combines 4.5-inch (118 mm) woofer and.
Tweeter for transparency and wide sweet spot. Reference mixes via Bluetooth 5.0 streaming. Integrated 60-watt Class D power amplifier; 30 watts distributed to each speaker. Acoustically optimized for desktop placement.
Molded ABS cabinet with contoured low-frequency port. Three sets of inputs allow connection with professional equipment, personal music players and consumer devices. Master monitor includes electronics for the extension monitor, minimizing wiring and clutter. Front-panel input control selects Bluetooth, Aux, RCA, TRS or combines all inputs. Front-panel volume control and headphone jack with speaker mute feature.
Extension monitor speaker wire (2-conductor, 2 meters). 3.5 mm to RCA audio cable. System input type: bluetooth, 1/8" aux, rca, 1/4" trs balanced. Input selection options: bluetooth, aux, rca, trs, all. System output type: 1/8 stereo headphone with auto speaker mute. LF transducer: 4.5 in (118 mm). HF transducer: 0.75 in (19 mm), soft dome. Crossover: 1725 hz, 1st order.
Power amp: 60 w (30 w each speaker), class d. Maximum continuous spl: 89 db.
System peak spl: 102 db (pink noise, 12 db crest factor). Maximum spl, momentary peak: 104 db. Maximum peak input level(-10 dbv / +4 dbu): +6 dbv / +20.3 dbu. Frequency range (-3 db spl): 88 hz - 20 khz. Frequency range (-10 db spl): 60 hz - 20 khz. Cabinet tuning frequency: 72 hz.
Signal to noise ratio: 75 dba (a-weighted), 70 dbr (unweighted), relative to 2.83 vrms output on hf. Coverage (horizontal x vertical): 120º x 60º. Acoustic test specification: ats# 1000340443.
AC input voltage: 100 - 240 vac (±10%), 50 / 60 hz. Electrical current draw (w) idle 100 / 240 vac: 3.52 / 3.70. Electrical current draw (w) max power 100 / 240 vac: 80 / 80. Electrical current draw (w) lowpower standby mode 100 / 240 vac: 0.34 / 0.46.
Enclosure material: abs with metal grille. Enclosure finish: 104-bt: matte black acrylic paint.
104-btw: matte white acrylic paint. Height: 9.72 in (247 mm). Width: 6.02 in (153 mm). Depth: 4.88 in (124 mm).
Net weight: master monitor: 4.54 lb (2.06 kg). Slave monitor: 3.81 lb (1.73 kg). How to Setup a Rockville Condenser Microphone with Your Computer. This model is similar to our RCM01 however it is made of aluminum, and the frame is slightly larger. We also upgraded this model to a high end metal anti-wind cap!
We highly recommend this design. Multi-Purpose Designed for crystal clear capturing of vocals, acoustic and amplified instruments, as well as room reverb. The aluminum construction makes the RCM03 tough enough for Live sound applications as well! This microphone can be used in multiple ways.
You can connect this to the phantom power of your mixer or you can connect it directly to your computer sound card. We include a cable to connect it to your mixer as well as a cable to connect the mic to your computer!
Quality built inside and out! The microphone is made of aluminum. It is very rugged and tough like you would expect from any Rockville product. This microphone has a large diaphragm which is what enables our mic to deliver a wider range of high and low frequencies than our competitors. Our frequency range is tested at 30HZ - 20KHZ!
The mic sounds crystal clear sound with no distortion! The PCB (circuit board) uses surface mounted components which is the same method the expensive brands use. We use only top components that under-go extreme testing by our own audio engineers. The last thing that I need to mention and call out is that our product is very sturdy.
When you are recording, you do not want even the slightest noises coming from your mic. The microphone consists of a casing and there is a cartridge inside the case. You do not want that cartridge moving around. We made sure to adjust our mechanism and ensure the cartridge is firmly in place and not creating any unwanted noises.
RCM03 Condenser Microphone made of aluminum! 100% Copper 10 foot 3.5mm jack to XLR cable to connect mic to your computer or other device. 100% Copper 10 foot XLR to XLR cable to connect to any mixer with phantom power.
Rockville RCM03 Pro Studio Recording Condenser Microphone Mic+Metal Shock Mount. Polar Pattern: Internally Polarized Condenser Cardioid Design.
Large diaphragm for smooth, natural sound and low noise. Power Requirements: 48V DC Phantom Power. Output impedance: 200O±30%(at 1kHz). Operating voltage range: 1.5V-10V. Current consumption: less than 500uA.
Voltage deduction characteristic: within 3dB at 2V. S/N ratio: More than 24dB. Frequency Response: 30Hz - 20 KHz.
Fixed Crossover Filter cutoff frequency: 40Hz---16 KHz. Load impedance: Greater or = to 1000 Ohms.
Equivalent Noise level: Less than 18dB A (IEC581-5). Input SPL: 126dB(THD=1.0% at 1kHZ). Electrical current: Greater than 4.8Ma.
Microphone body net weight:320 Grams (0.7 Pounds). Diameter 44mm (1.73 inches). Microphone Length 217mm (8.54 inches).
Microphone material: steel grille + Alluminum (handheld part). About Rockville Quality Control Procedures. The Rockville brand stands for Quality, Innovation and Value. All Rockville products go through the most rigorous quality control standards in the industry.
Products go through months of extensive testing before they reach your hands. All user functions are tested and all internal components are tested for quality. Rockville makes products that are virtually un-breakable! Rockville is one of the only brands in its class to test every concept model for weeks or months before starting production. Once production begins, Rockville sends product engineers to their factory to quality control every line of production.
During production every product is tested and on top of that Rockville goes the extra mile and has their high level product engineers do an additional quality control. They test a certain percentage of all products from the production line a second time to ensure that the quality meets their vigorous standards, and to make sure that there is never a batch of products with even a slight problem. Rockville RDTS Adjustable Height Studio Desktop Tripod Microphone Stand and Mic Clip.
Includes standard mic clip for regular mics. For condenser mics - this is compatible with any shock mount (Rockville Rockshock is recommended). Adjustable height from 5.9" to 7.1" inches. Includes a Metal 3/8 to 5/8 adapter to support any mic clip on the market. All metal construction is extremely strong and durable. Smoothly raise or lower height with a reliable tightening knob.
Stable tripod leg base provides the ultimate stability and precise balance. Perfect for studio recording, home recording, podcasts, screen-casts, video chats, conferences, and more. The Rockville RRS190S is specially designed to increase monitoring accuracy. These are made to decrease unwanted vibrations and noises so that you are left with accurate sounds.
No matter how good your monitors are, they can never sound the way they were meant to if they are carrying over vibrations and unwanted noises into your music. These are 7.5" by 9.5" and includes 2 pads which will accommodate (2) monitors. Rockville isolation pads are designed to acoustically isolate your studio monitors.
They were designed to work in studios and give studio quality sound; however some customers will also use them for high end home theater setups. Typically when speakers are placed on hard surfaces, they can vibrate. The vibrations cause the speakers' sound to become inaccurate, unfocused and lose their musical transparency.
The Rockville Isolation Pad package includes a pair of high-density acoustic foam pads with multiple angle inserts that allow you to fine-tune your speakers positioning. Though conceived and designed for studio monitors/speakers you can decouple and isolate any sensitive studio device such as DVD players, turntables and laptops. How to get maximum performance from your Monitors! Rockville Studio Isolation Pads are the most cost-effective improvement you make to your sound system. Imagine the isolation pads as being your speaker systems "shock absorbers".
Place the Rockville Isolation Pads under your monitors they will absorb vibrations and decouple your monitor to stop vibrations that would otherwise transfer into your studio environment. Isolation Pads will make a day and night difference in the sound quality of your studio. Rockville Studio Isolation Pads Feature. Easiest and affordable way to improve your studio monitors sound. Decouples your studio monitors from desktops and monitor stands for accurate reproduction. Each package contains 2 Isolation Pads - enough for 2 studio monitors. 2-part angled design provides you with a wide range of tilt options, including flat, +/-4 degrees, and +/-8 degrees. Supports up to 100 lbs. So they can isolate a variety of studio gear.
Decouple your monitors for super-accurate sound What Rockville Isolation Pads do is called decoupling. When your monitors sit on your desk or floor, they transmit vibrations that cause the surface that they're sitting on to vibrate at low bass frequencies. These bass vibrations don't get recorded in to your mix because they are not really in your mix. But when you play the mix in your studio the "coupled" vibrations, will be heard giving you false sound reproduction.
But because these "coupled" vibrations are not being recorded when you play your mix outside of your studio, all those low bass frequencies will be gone. By decoupling: your monitors, you eliminate these false low frequency vibrations, helping you to create accurate mixes that will sound great on any playback system.
Perfectly position your monitors Rockville Isolation Pads allow you to position your studio monitors at the exact angle you need. Each pad comes in two pieces, each with a 4 degree angle. That allows you to tilt your monitor at one of five different angles: flat, +/-4 degrees, or +/-8 degrees. This allows you to place your monitors flat on your desk top or angled down for proper positioning. The most affordable way to improve the sound of your studio monitors. Rockville RRS190S: Monitor Isolation Pads. 3 Angle High Density Foam. 7.5" x 9.5". High quality, High Density Foam.
Eliminates vibrations and unwanted noises in your studio. Price is for (2) pads which accommodates (2) speakers.
It is ideal for connecting a portable media player, laptop, or similar device to a mixing console. Nickel-plated plugs for rugged durability and efficient signal transfer. Oxygen-Free Copper (OFC) conductors for enhanced signal clarity. OFC spiral shields for effective EMI and RFI rejection and flexibility. 3.5 mm TRS to Dual 1/4 in TS. Soft suede and leather ear cushions (interchangeable). Leather hard travel protective case. Rockville brings you studio quality headphones and at an incredible price with its new PRO-M50 headphones. These are professional grade headphones that are guaranteed to ourperform headphones that cost triple the price! These feature ergonomically designed swiveling cups with interchangeable soft suede or leather finish cushions (included). The ear cups seal tight for excellent sound isolation and minimal bleed. Inside these cups you'll find 40mm Neodymium drivers delivering accurate audio with an extended frequency range for clear and rich bass, and a full frequency range of mids and highs.
These are closed back style headphones specifically designed for studio monitoring. These play back the sound with a flat frequency curve so you can hear your music exactly how it was recorded. With the PRO-M50 you can expect to hear every detail of every song with extreme accuracy. These headphones cover full frequency ranges; even extending a bit past the frequencies that the human ear can hear.
The headband is made of soft leather, offering ultimate comfort even after extended wear. The beautifully designed stainless steel headband frame and arms are strong and durable. A detachable 51 coiled 100% Oxygen Free Copper cable with a gold plated 3.5mm plug is included along with a gold plated.
Adapter to ensure the best possible signal. A hard leather case is included to store and protect your new investment when you are on the go. Amazing sound quality will make these your go-to headphones whether in the studio or out and about!
Rockville PRO-M50 Studio Headphones w/ Detachable Coil Cable, Case+Extra Ear Pad. Ergonomically designed swivel ear cups. Sturdy and durable steel headband and arms. Interchangeable leather and soft suede ear cups covers included.
Detachable 51" coil cable made of 100% Oxygen Free Copper (158" fully extended). Gold plated 3.5mm connector. Stainless steel headband frame and moving arms are durable and long-lasting. Frequency Response:10Hz - 25KHz. Net Weight: 290g (with cable). Best prices - We sell all Samson Products at great prices.
Lifetime Customer Service by Samson product experts. Guaranteed legitimate and authentic merchandise. If your item is defective or you want to return it for any reason within the first 30 days of when it was delivered to you; you have the following options.
We will send you a. To replace the item for a brand new one. All replacements and exchanges are free. This item is in the category "Musical Instruments & Gear\Pro Audio Equipment\Studio/Live Equipment Packages".
The seller is "audiosavings" and is located in this country: US. This item can be shipped to United States, Canada, United Kingdom, Denmark, Romania, Slovakia, Bulgaria, Czech Republic, Finland, Hungary, Latvia, Lithuania, Malta, Estonia, Australia, Greece, Portugal, Cyprus, Slovenia, Japan, China, Sweden, Korea, South, Indonesia, Taiwan, South Africa, Thailand, Belgium, France, Hong Kong, Ireland, Netherlands, Poland, Spain, Italy, Germany, Austria, Bahamas, Israel, Mexico, New Zealand, Philippines, Singapore, Switzerland, Norway, Saudi Arabia, United Arab Emirates, Qatar, Kuwait, Bahrain, Croatia, Republic of, Malaysia, Brazil, Chile, Colombia, Costa Rica, Panama, Trinidad and Tobago, Antigua and Barbuda, Aruba, Belize, Dominica, Grenada, Saint Kitts-Nevis, Saint Lucia, Montserrat, Turks and Caicos Islands, Barbados, Bangladesh, Bermuda, Brunei Darussalam, Bolivia, Ecuador, Egypt, French Guiana, Guernsey, Gibraltar, Guadeloupe, Iceland, Jersey, Jordan, Cambodia, Cayman Islands, Liechtenstein, Sri Lanka, Luxembourg, Monaco, Macau, Martinique, Maldives, Nicaragua, Oman, Peru, Pakistan, Paraguay, Reunion, Vietnam, Uruguay.
Brand: JBL
MPN: 104SET-BTW+PRO-M50+RCM03+RNDSM10B PACK
UPC: 613816452491
Type: Studio Monitor System
Model: 104SET-BTW+PRO-M50+RCM03+RNDSM10B PACK
Active/Passive: Active
Features: Amplified, Bluetooth, Built-In Stereo Crossover, Input Gain Control, Portable
Modified Item: No
Country/Region of Manufacture: China
Bundle Description: Pair JBL 104 Powered Studio Monitors w/Bluetooth+H
Items Included: Package Includes (1) JBL 104SET-BTW Pair Compact P, (1), Rockville PRO-M50 Studio Headphones w/ Detachable, Case+Extra Ear Pad, (1) Rockville RCM03 Pro Studio Recording Condense, (1) Rockville RDTS Adjustable Height Studio Deskt, (1) Pair Rockville RRS190S Foam Studio Monitor Is, Hosa CMP-159 10' 3.5mm 1/8\
Custom Bundle: Yes

---