M-Audio BX5 D3 5 Active Powered Studio Monitors Pair BOXED Exceptional Cond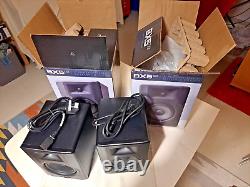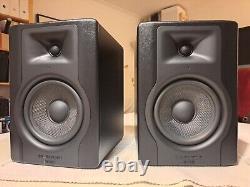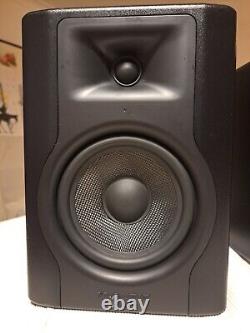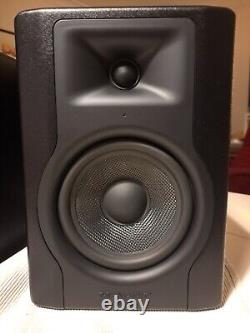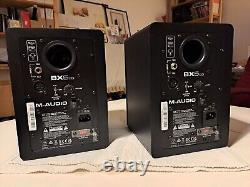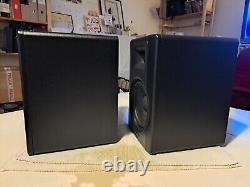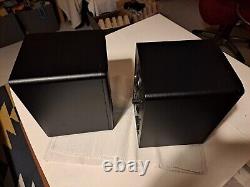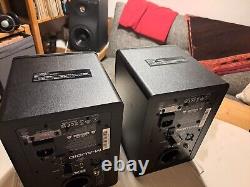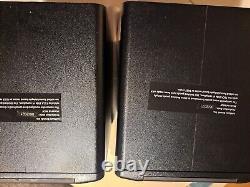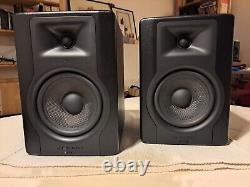 M-Audio BX5 D3 5 Active Powered Studio Monitors Pair BOXED hardly used. Used for a project and stored. Not only have the BX5-D3's been designed with military grade materials, but also with military precision. The 5 Kevlar woofer is the ideal material to produce high quality sound, being both rigid enough to project low end frequencies and light enough to give clear transient responses.
The 1 dome tweeter is also made of silk, for an incredibly fast response, meaning the high frequencies are reproduced with clear definition, allowing you to hear every part of your mix. The speaker casing has been carefully designed for its purpose. The tweeter sits within a custom waveguide, allowing for a controlled dispersion of sound, instead of just pockets of high end like other speakers. The rear-mounted bass port is also designed to give a defined bass response and extension.
This means the BX5-D3 can make a truly full 3D soundscape. The BX5-D3's have been developed to give tremendous sound reproduction in any environment. If used in a small room, bass frequencies can build up corners and bounce off surfaces. This gives the false impression of too much or too little bass in your mix, meaning it will not translate to other systems or environments well.
The Acoustic Space Control feature offers 3 types of low frequency attenuation. , allowing you to get a clear representation of low end clarity in your mix. A blue LED on the front of the monitors is designed to find the best listening position as easy as possible, the blue LED will shine at it's brightest when you have found the sweet spot. This allows for uncompromised accuracy and critical evaluation, to truly get the best out of your production. Both the tweeter and woofer in the BX5-D3s are independently powered by their own Class A/B internal amplifiers. Each amplifier has been tailored to the frequency range it handles, whilst still complimenting the other amplifier. With a finely-tuned crossover point, this guarantees each driver handles the frequencies it is meant to, making for powerful and cohesive sound. These are M-Audio's most efficient monitors to date. Boasting a collective 100 watts of power, headroom is no problem for the D3's. The higher headroom allows for the volume to be increased, without any distortion of the sound. The additional power not only means you can listen to your mixes at a slightly louder level for referencing. We do not recommend listening at a high level for long time periods. , but they are also great to use as general media speakers. Bi-amplified design with 100 watts of RMS power for powerful and accurate sound. 5'' Kevlar low-frequency driver with a high-temperature voice coil and damped rubber surround. The 1'' natural silk tweeter provides astounding transient details.
New computer-optimised tweeter waveguide delivers precise imaging. Acoustic Space Control enables you to fine-tune the low-end response to your listening space.
Optimized rear port provides extended low-frequency response. 1/4'' balanced/unbalanced and XLR balanced inputs allows you to connect to audio interfaces, mixers, synthesizers, DJ gear and more. Volume control enables you to dial in the ideal monitor playback level for your session or space. Exceptional frequency response with a wide range of 52Hz to 35kHz to cover a full musical spectrum. Handy front panel LED enables perfect positioning of monitor angle in relation to your listening position.
Monitor Type: 2-way near-field studio reference monitor. Low Frequency Driver: 5'' (127mm) kevlar curved cone with high temperature voice coil & damped rubber surround. High Frequency Driver: 1'' (25mm) magnetically shielded natural silk dome. Frequency Response: 52Hz - 35kHz.
Low Frequency Amplifier Power: 65W. High Frequency Amplifier Power: 55W. Input Sensitivity: 85mV pink noise input produces 96dBA output SPL at 1 meter with volume control at maximum. Polarity: Positive signal at + input produce outward low frequency cone displacement.
100 - 120V: T1.6AL 250V. 220 - 240V: T1AL 250V. Dimensions (W x D x H): 6.9'' x 7.8'' x 10'' / 176mm x 197mm x 254mm. Will be safely packed, insured and dispatched via packlink.

---