KRK VXT-8 Active Studio Monitors (Pair)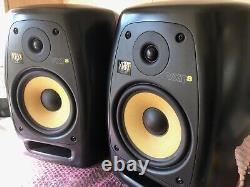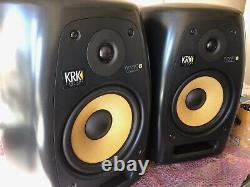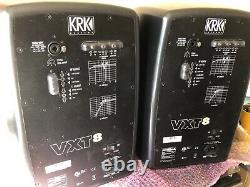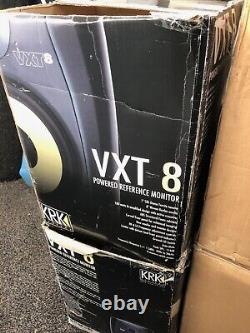 Here we have a pair of really nice active studio monitors from KRK.. The VXT-8 is an active 2-way studio monitor.
Ideal for medium/Large size studio nearfield use.. They feature a 8 inch bass/mid driver with a Silk dome tweeter. Very powerful and Dynamic sounding speakers..
Frequency response: 37-22,000 Hz (±3 dB). Bi-amped design with separate class A/B woofer and tweeter amplifiers for greater headroom and lower distortion. Woofer amplifier power: 120 watts. Tweeter amplifier power: 60 watts. 8 woven Kevlar woofer with extruded aluminum pole piece and vented former for durability, reduced distortion, and extended low-end performance.
1 silk dome tweeter with waveguide for superior imaging and reduced ear fatigue. High-density, low-resonance ABS foam enclosure provides excellent vibration damping, structural rigidity, and impact resistance. Radiused enclosure edges eliminate diffraction and phase distortion for improved imaging and a wider sweet spot. These come boxed and are in super condition and fully working.. So have had very little use.. Feel free to make a sensible offer.. This is for a pair...

---