KRK 8 (RPG2) PAIR of Professional 8 2-Way Active Powered Studio Monitors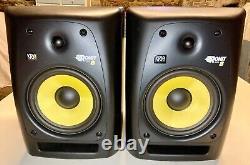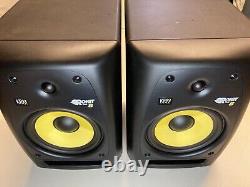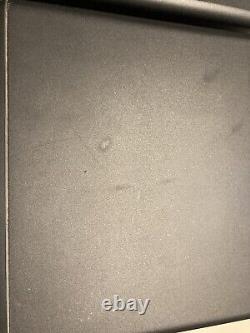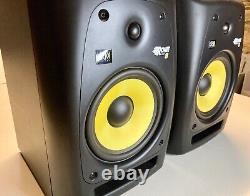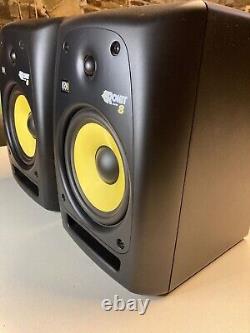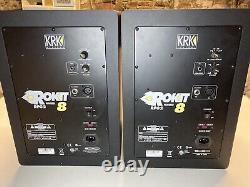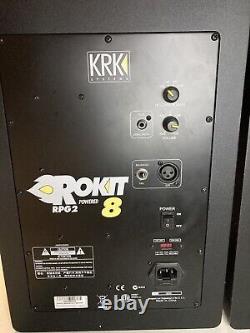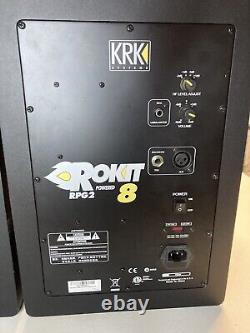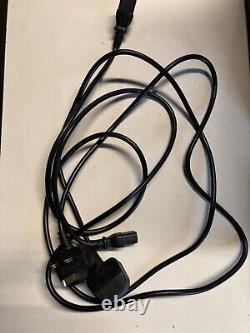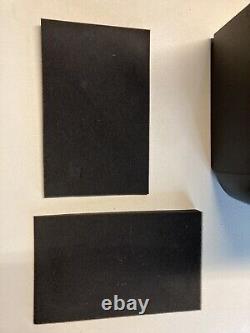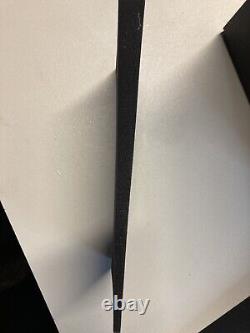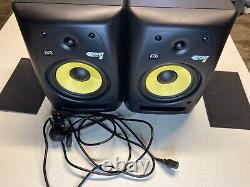 PAIR of the larger KRK 8 speakers (Generation 2). Fantastic sound quality and excellent condition (some light markings to the top of one of the speakers, otherwise like new).
Very light use in my home studio. Also included, power cables and two foam acoustic speaker isolation pad stands. KRK's glass-aramid cone technology ensures solid performance and incredible accuracy! KRK's Rokit G2 (Generation 2) powered studio monitor is designed to give amazing performance and accuracy for the home or project studio. The G2 Rokit studio monitor has radically curved edges which virtually eliminate diffraction and provides a wider sweet spot.
Dual high-power amplifiers in each speaker and active crossovers provide smooth and accurate reproduction. The Rokit monitor has the most accurate response curve in its class ensuring that you hear all of the details in your mix. The KRK RokitG2 Series takes value-priced monitors to a new performance level. All of the great stuff that Rokit monitors have been known for (front-firing bass port, soft-domed tweeter, glass-aramid composite yellow cone) are still there, but the G2 Rokit's feature refined voicing and a new curved baffle that looks great, reduces diffraction and provides even better monitoring accuracy.
Welcome to the all new Generation 2 RoKit Powered. Studio Monitor Series from KRK Systems. For years the Rokit series has been a popular choice for accurate monitoring in studios large and small. Now the all new Generation 2 Rokit monitor provides a new standard for even better performance and accuracy, raising the bar once again. Why compromise gain structure to achieve a comfortable listening level? As musicians and recording people themselves, KRK asked that question too. So each Generation 2 Rokit monitor comes with an Input Volume Control that provides an adjustable gain range from +6dB to -30dB. Just another way Rokit lets you focus on your mix, and not on compatibility concerns. Catch A Wave, For A 3D Mix. Recessed tweeters may look the same, but they don't perform the same. KRK has designed a superior tweeter wave guide for the Rokit that provides optimal high frequency pattern control and focuses the sound outward, away from the cabinet. More conventional designs direct sound along the plane of the cabinet where waveform interaction can cause phase problems and increased diffraction. KRK knows a properly engineered high frequency wave guide is a critical component to great sound, and one key to KRK's award winning performance. At KRK, the focus is your mix. But it doesn't stop at creating accurate monitors. KRK appreciates the need for monitors that not only sound great but work easily into your particular set up. That's why you'll find plenty of input options with your Rokit, sure to accommodate any studio environment. So if it's RCA, quarter-Inch (balanced/unbalanced) or XLR inputs you require, Rockit has got you covered. Even More Accurate Than Before. KRK took a great monitor series and made it better.
KRK's engineers and listening panel took the Generation 2 Rokit's speaker voicing to even more accurate levels. What you hear is what you are intended to hear, coloration is not part of the spec. This performance is brought to you by drivers that are custom-designed by KRK's world-class studio monitor engineering team, for clear, low-distortion performance.
While your Generation 2 Rokit leaves the factory voiced to demanding specs, KRK also knows that no two rooms "sound" the same. As such, each Rokit comes equipped with a High Frequency Level Control. This feature provides specific adjustment of high frequency output most commonly affected by room acoustics. It's just one extra level of control that KRK gives you to ensure the most accurate mix for your particular room's acoustics. Don't Be Square, Curves Ahead.
The new Rockit monitor looks different, so it can sound better, and in a wider "sweet spot". Traditional rectangular speakers suffer from diffraction as sounds leaving the edge of the cabinet are reflected back into the original sound field, and at different time intervals. This phase distortion creates a "narrow" or boxy sound. The Generation 2 Rokit monitor series eliminates this issue with radically engineered curved surfaces.
So diffraction is virtually eliminated. Simply put, you'll get better sound in a wider area. Let's Be Up Front. Take a look at competitive monitors and you'll find ports on the back of the cabinet. These rear-firing ports tend create bass coupling with walls and corners amplifying low frequency information which will color your mix. The superior design of the KRK Generation 2 Rokit monitors include front-firing ports, which are just the right shape and taper to reduce port turbulence. You'll appreciate the clean and accurate bass performance, this approach delivers, even at high SPLs. A great sounding monitor doesn't stop with a great cabinet and custom drivers. KRK's true bi-amplified amplifier system provides discrete low-distortion power for each driver. While the active crossover systems provide smooth and accurate frequency response, and again, accurate diffraction control. Radically curved front plate design virtually eliminates diffraction distortion. Waveguide design provides amazing detail and imaging. Front-firing port provides low frequency extension without boundary coupling.
New speaker voicing for even more accurate frequency response. 1 Neodymium soft dome tweeter. Frequency response: 45Hz - 20kHz.
Even at this low price, Rokits offer a balanced mix with clarity and detail - let a Rokit put your mix in the pocket. Rokit Powered 8 Generation 2 Specifications. Drivers: Woofer: 8 Glass-aramid composite woofer. Tweeter: 1 neodymium soft dome tweeter with ferro fluid. Input: XLR (3-pin), RCA & 1/4 TRS - 10k Ohm, Balanced / Unbalanced. Amplification: 140 Watt dynamic power bi-amp, 24 dB octave filters. Dimensions (H x W x D): 15" x 10 7/16" x 13, 38.1cm x 26.5cm x 33cm.

---