Avantone Active MixCube Studio Monitors in Black (x2) with power adapters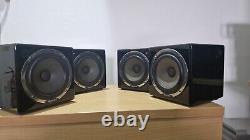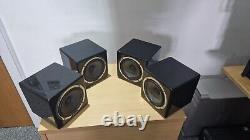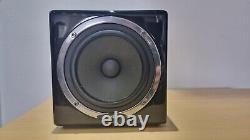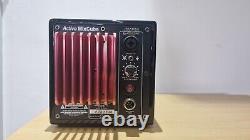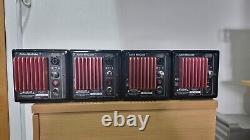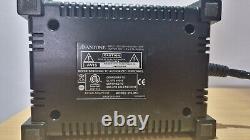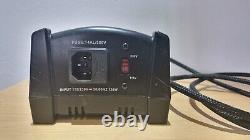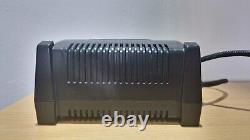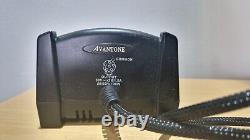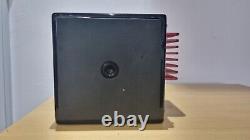 Avantone Active MixCube Studio Monitors in Black (x2) with power adapters. Used, in very good condition. We have a total of 4 available in cream + 4 in black. Please message us if you would like a specific amount (1-8). Items may feature cosmetic dings, scratches.
The monitor is an active (self-powered) shielded full-range stereo pair, allowing for accurate stereo imaging and representation. The frequency response of the Mixcube Active Monitor ranges from 90Hz to 17,000Hz, covering the useful musical range and focusing on the midrange and treble frequencies.
The nominal impedance of the monitor is 8 ohms, ensuring compatibility with a wide range of audio equipment. The monitor can reach a maximum sound pressure level of 104dB at 1 meter with 1% Total Harmonic Distortion (THD) when driven by pink noise.
The monitor utilizes a Class A/B amplifier with 60 watts RMS power output at 0.005% THD (1kHz). This provides ample power for accurate reproduction without introducing significant distortion. Amplifier Frequency Response and Noise. The amplifier's frequency response ranges from 22Hz to 50kHz (+0dB/-3dB), ensuring a wide and accurate frequency range. The signal-to-noise ratio (S/N) is -113dB, indicating low noise performance.
The monitor has a sensitivity of 0dBu (0.775VRMS) input at maximum volume (+6dB), resulting in a sound pressure level of 104dB SPL. This means it can produce a relatively high volume level for its size. The Mixcube Active Monitor features a proprietary 5.25 cast aluminum frame driver with a paper cone, designed for optimal performance and accuracy. The driver is shielded to prevent interference with nearby electronic devices. The monitor is housed in a sealed cabinet constructed from 18mm MDF (Medium-Density Fiberboard).
It incorporates Dacron acoustical stuffing to enhance the low-frequency response and reduce resonance. The monitor provides XLR and TRS (Combo Jack) inputs, accommodating both +4/Balanced and -10 unbalanced audio signals. This allows for flexible connectivity options. Each monitor weighs approximately 7.13 lbs and has dimensions of 6.5" x 6.5" x 6.5, making it compact and portable. The Avantone Mixcube Active Monitor is designed to provide a reliable and accurate reference for mixing and monitoring audio in various applications.
Its compact size, accurate midrange and treble representation, and self-powered design make it a versatile tool for audio professionals and enthusiasts alike.

---