Active PA Speaker Kit 15 Subwoofer with Pair of 8 Tops & Dual Stand PD1500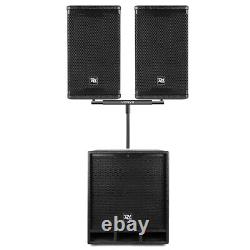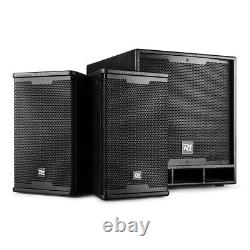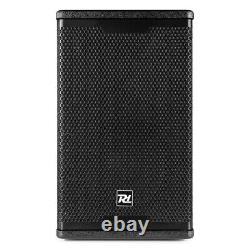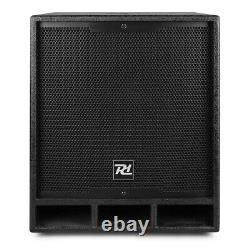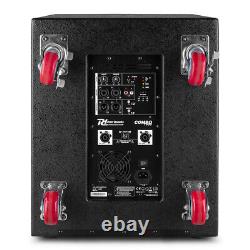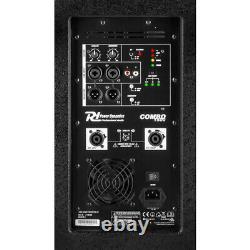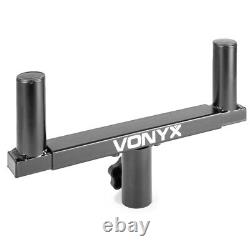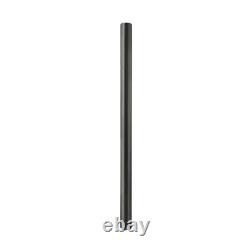 Active PA Speaker Kit 15" Subwoofer with Pair of 8" Tops & Dual Stand - PD1500. Presenting the PD Combo1500 Active PA Speaker Bundle, designed to elevate your audio experience for DJs, live performers, and event organisers. This package includes a 15" subwoofer and two 8" top speakers, mounted on a twin crossbar stand for easy placement. The PD Combo1500 active speaker kit is designed for versatility.
Pairing an active subwoofer with two top satellite speakers efficiently reproduces a wide frequency range, providing deep lows and clear highs. The volume of the top speakers and sub can be adjusted separately. Dual XLR/6.3mm jack line inputs are provided on the subwoofer in this active speaker package at its rear for easy connections to mixers or DJ controllers.
Additionally, a stereo RCA line-level input allows wired audio playback from devices like laptops or smartphones. The Combo1500 DJ speaker kit also boasts a built-in Bluetooth receiver, enabling wireless pairing with your smartphone or tablet for audio streaming.
This wireless convenience is particularly advantageous for casual gatherings or events, allowing you to easily play music. The subwoofer in this system provides three selectable DSP presets: flat, DJ, and live. By switching between these presets, the system's frequency response is altered, making it ideal for different purposes such as DJ events, speech, and live performances. Active PA speaker system with a twin crossbar stand for easy positioning in a variety of venues. A 15" subwoofer with two 8" satellite top speakers is used in this active speaker kit for a wide frequency response.
Dual XLR/6.3mm jack and stereo RCA line-level inputs to connect various devices to the active speaker package. Bluetooth technology is provided on this DJ speaker kit to stream audio wirelessly from smart device.
Three DSP presets that adjust the frequency response of the system to cater towards different applications. Includes 1x Power Dynamics 178.662 PD ComboSet 1500 15" Sub + 2x 8" Tops 1x Soundlab Heavy Duty Speaker Mounting Pole 0.9m 1x Vonyx 180.195 WMS-03 Double Speaker Pole Bracket.
BBA5610 - PD1500 Active PA Speaker System 15" Subwoofer and Pair of 8" Tops for Live Bands. This active speaker package is the Combo1500 model from Power Dynamics, a high-quality and compact system with user-friendly functionality. Operating at 800W power, this powered speaker package is perfect for medium to large-sized applications. With a 15-inch subwoofer included, this active speaker kit offers deep bass response and a well-rounded overall sound when paired with the satellite speakers.
The subwoofer features integrated carry handles on both sides of the unit for ease of movement. The satellite speakers and subwoofer each have independent volume controls located on the rear of the sub, allowing you to set them at different levels to achieve a perfect balance of sound in the venue you are using them in.
A highly useful feature that this active speaker package has to offer is Bluetooth connectivity. By setting the system to Bluetooth mode, you are able to pair a smart device like a tablet or smartphone and stream audio wirelessly from any app. Another way that audio can be played using this system is by utilising the combined XLR and Jack inputs on the rear of the subwoofer. There are also line output connections, providing the ability to connect the set to an external sound system if necessary.
800W active speaker package for medium to large-sized venues. 15-inch subwoofer included providing deep and defined bass response. Separate volume control for the subwoofer and satellite speakers for a balanced sound mix. Bluetooth technology for wireless audio streaming from a paired smart device. Combined XLR and Jack inputs as well as XLR line outputs to expand to an external speaker system. Class-D amplifier 500W + 2x 150W RMS. Using Bluetooth Wireless technology for audio streaming. 24bit 96KHz DSP with 3 presets.
Volume control for subwoofer and satellite speakers. +5dB switch for boosting input signal. Lightweight with integrated carrying handles. Including wheels and 2x 5m speaker cable. Supplied features: Speaker pole mount.
Input connections: 6.3mm Jack RCA XLR (3-pin). Output connections: NL-4 XLR (3-pin).
Frequency response : 35Hz - 18.000Hz. Dispersion: 90 degrees x 60 degrees. GGA6012 - Soundlab Heavy Duty Speaker Mounting Stand Mount Pole 0.9m for DJ PA Systems. A strong metal speaker pole, designed for mounting speakers (tops) onto subwoofers (subs/bins) for reaching optimal sound dispersion. Perfect for mobile DJ sound systems, or fixed audio installation.
GGA6003 - Universal Double Speaker Support Dual Bracket Stand 35mm Tophat Pole Mount. The double speaker pole bracket is a strong and solid bracket fitted with two tophats. Ideal for mounting your 2 speakers close near each other.
The tophats are adjustable and can be shift from or to each other. 2 x 35mm Tophat pole-mount. A tracked service is available when you select a 48 hour or 24 hour courier service. Due to our carriers charging extra for Highland and Islands, we need to pass this charge onto our customers. Where do you deliver to?
We deliver to the UK, Ireland and internationally covering most of the EU, including. All deliveries will require a signature so please ensure someone is present to sign for the item. The couriers will try and deliver the item twice before returning the item to us. Thanks for shopping with ElectroXtra. Up to 60 days since order.
Existing product must return brand new with original contents. Item must be damaged or have a manufacturing fault.
No cost to you unless the item isn't faulty or damaged. Condition must be in'as good as new' and unused.
Up to 2 years since order. Cost of sending the item back. Within 60 days since purchasing your package, if you decide you want something with a little better you can send it back to us and we'll happily upgrade your order, however what is sent back to us must return brand new and include your products' original box and all of its original contents and inserts (such as the booklet). Rest assured, our team are entertainment industry experts and are there to listen to and discuss any ideas or issues you have with your product, imparting wise advice on which product would be ideal for your requirements. Customers must pay for any costs related to returning the item as we do not offer a collection service for unwanted items.
Please reach out to our customer service to return a faulty or damaged item. However, if we discover that the product has a manufacturing fault that results in the item being unrepairable we will instead offer a replacement for you. If during our investigation, we've discovered any user error or misuse with the item, we will instead provide you with an engineer report of the problem and advice on how to prevent future damages, as well as reach out to you to discuss proceeding further.
To clarify, this is so that we can offer you the highest quality Customer Service and we are able to track your return when it arrives back at the distribution centre. Your return will be evaluated by our engineers to determine the validity of the case at hand, if the product is found to be in a used condition or indeed there is anything missing from or including the original box we reserve the right to deduct reasonable costs in relation to the condition we have received your return. Upon request, we can provide photographs for you to supply to the courier, however, we cannot be held liable for the cost of this loss. How do I find the item number or product code? The product code of the item is displayed in orange text to the right hand side of the main image in the description. It will be displayed as a seven-figure code e.
Can I amend my order? Before dispatch: you can amend your order, or cancel your order at any time. What if I have not received my order?
What if the item(s) received are faulty or damaged? Please note that a cheque transfer may take up to 10 days to process, however. When will I receive confirmation of my order?
Will you accept offers on price? All of our listings are given a non-negotiable, fixed price. However, If the item is B-stock, clearance or damaged we may accept offers on price. Will you reserve an item for me?
On a case-by-case basis, we may allow you to place a deposit to reserve an order. Our standard deposit is 30% of your gross order value, however this is subject to change depending on the nature of the order. What are my rights of cancellation on reserved items? In the event that you wish to cancel your order after we agreed for you to pay a deposit i. You have reserved an order but not paid the full amount for the order, your deposit is not refundable.
This is mainly to cover abnormal costs incurred by us, like (but not limited to) custom products, design work taken place, cancellation of 3rd party contracts e. Please check the listing for details. Can I come in store and collect my item(s)? Sorry - we do not accept reservations on items. How can I return my item? It is the responsibility of the customer to return the item. We may have already answered popular enquiries and questions on our FAQ page. If you have any enquiries, concerns or questions about your order, our policies or any of our products: our friendly customer service and sales team are on hand to assist you with anything you may require. We are open 6 days a week, excluding bank or public holidays & annual holidays. We are open 5 days a week, excluding bank or public holidays & annual holidays.

---