2x Yamaha DBR15 Active PA Speaker 15 Inch 2 Way Powered Loudspeaker (Pair)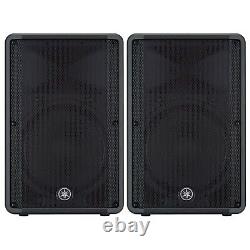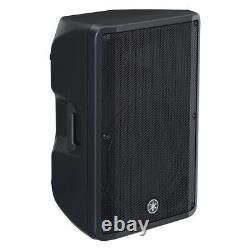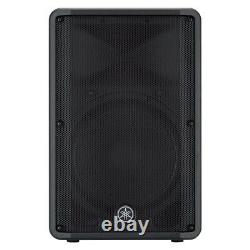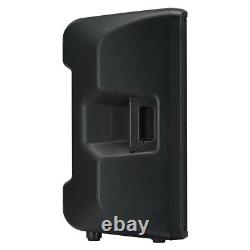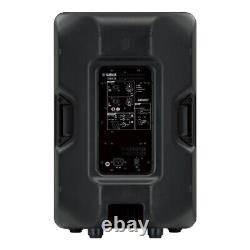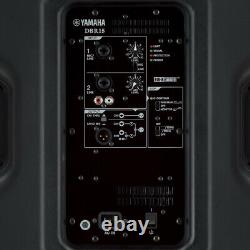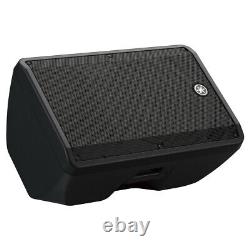 Wherever your music may take you, DBR Series loudspeakers are up to the task of delivering powerful, high-quality sound with an un-matched economy of transport and setup time. The most portable powered loudspeakers Yamaha has to offer, the versatile DBR Series harnesses the same state-of-the-art Yamaha DSP and amplifier and speaker technologies developed for the professional DSR Series and DXR Series lineups, ensuring high-resolution sound at any output level.
Comprised of 10", 12" and 15 models, each DBR loudspeaker is housed in a newly designed, durable, lightweight cabinet optimised for FOH sound, floor-monitoring and even rigged applications. Whether you're powering your band's live performance, DJ-ing a party, or MC-ing an event, be prepared for DBR Series speakers to take your performance to the next level. The DBR's lightweight, high performance Class-D amplifier is capable of producing up to 1000W of power, achieving an SPL of 132dB, delivered with remarkable clarity and dynamic characteristics.
DBR10 has an output level of 700W. The high power output woofers deliver well-defined, powerful bass with minimal distortion, while the 1.4 precision compression driver produces accurate mid-range and high frequencies. DBR10 features a 1 compression driver.
A Rugged, Highly Portable Cabinet. DBR Series speakers feature a compact, lightweight, and durable plastic cabinet which offers the highest level of portability of all Yamaha powered speakers. The sleek steel grille bolsters cabinet durability and protects the internal components while a newly designed ergonomic handles provide effortless transportation and system setup. DBR Series speakers have two input channels. The onboard mixer allows you to select either CH1+2 MIX to mix the signal of CH1 and CH2, or CH1 THRU to pass the signal from CH1 only. Smart Enclosure Design for Floor Monitoring. DBR Series speakers feature an optimised 50°wedge angle for floor monitoring. In addition the DBR12 and DBR15's symmetrical shape allows for effortless configuration of a mirror-mode floor monitoring system in either symmetrical or stereo sound field setups. Rigging Points for Installation Applications. DBR loudspeakers come equipped with M8 rigging threads, allowing for rigged applications with optional speaker brackets or standardised eye-bolts. Speaker brackets and eye-bolts are not included. Speaker type: 2-way, Bi-amp powered speaker, Bass-reflex type. Frequency range (-10dB): 50Hz - 20kHz. Nominal coverage: Horizontal - 90° / Vertical - 60°.
Components: LF - Diameter:15" cone, Voice Coil:2.5", Magnet:Ferrite / HF - Diaphragm:1.4", Type: 1" throat compression driver, Magnet:Ferrite. Crossover: 2.1kHz: FIR-X tuningT (linear phase FIR filter).
Output power: Dynamic:1000 W (LF: 800 W, HF: 200 W) / Continuous: 465 W (LF: 400 W, HF: 65 W). Maximum output level (1m; on axis): 132dB SPL. I/O connectors: INPUT1: Combo x1, INPUT2: Combo x 1 + RCA pin x 2 (Unbalanced), OUTPUT: XLR3-32 x 1 (CH1 Parallel Through or CH1+CH2 Mix).
Processors: D-CONTOUR: FOH/MAIN, MONITOR, OFF. Heat dissipation: Fan cooling, 4 speeds. Power requirements: 100 V, 100-120V, 220-240 V, 110/127/220V (Brazil), 50/60Hz. Power consumption: 74W(1/8 Power Consumption), 18W(Idle). Flying and mounting hardware: Bottom x 2, Rear x 1 (Fit for M8 x 15 mm eyebolts). Pole socket: 35mm (Bottom x 1). Dimensions: W - 455mm (17.9") / H - 700mm (27.6") / D - 378mm (14.9). Net weight: 19.3 kg (42.6 lbs). INPUT1: Combo x1, INPUT2: Combo x 1 + RCA pin x 2 (Unbalanced), OUTPUT: XLR3-32 x 1 (CH1 Parallel Through or CH1+CH2 Mix). W - 455mm (17.9") / H - 700mm (27.6") / D - 378mm (14.9). Why people choose Bop DJ.

---