JBL EON615 15 Powered DJ PA Loud Speakers Pair with Yamaha MG10XU Mixer Package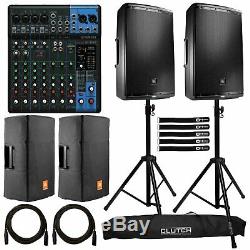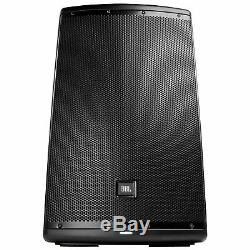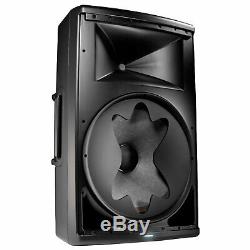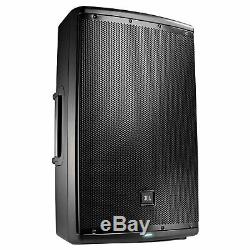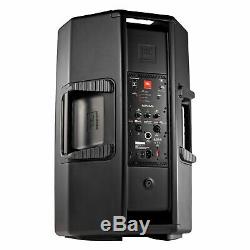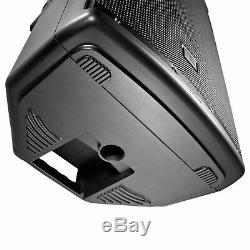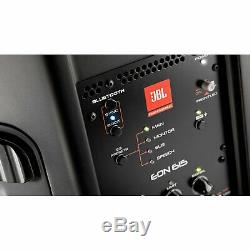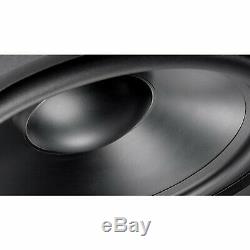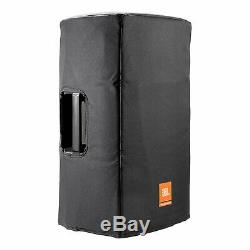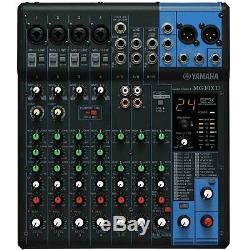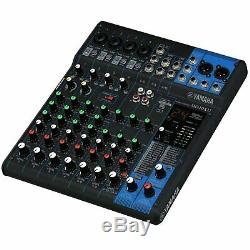 JBL EON615 15 Powered DJ PA Loud Speakers Pair with Yamaha MG10XU Mixer Package. JBL Professional EON615 15 Two-Way Multipurpose Active Sound Reinforcement Speaker with Bluetooth connectivity. More than just another great JBL sound system, the new EON600 is a true step forward in technology developed specifically to deliver the best sound possible regardless of its application. Completely rethinking how truly good an affordable self-contained, portable PA system can be, JBL engineers purposely designed and built the EON600 from the ground up featuring JBL's advanced waveguide technology, JBL designed and manufactured transducers, and convenient, wireless remote control of its onboard DSP EQ parameters via Bluetooth. This total redesign of the EON platform leverages the latest technologies in cabinet materials, acoustic science, transducer design and user friendliness that delivers the extraordinary quality of a high-end studio monitor in a fully professional, highly flexible, easy to use, portable system for today's working musicians and sound providers.
Enclosure designs have been optimized for ideal acoustic resonance taking advantage of injection molding techniques and mechanical shaping of the enclosures. JBL Bags EON615-CVR Deluxe Padded EON615 Protective Speaker Cover. Deluxe padded cover for EON615. Water Resistant Black Nylon Exterior, 5mm Padding, Handle Access Openings.
JBL Bags EON615-CVR Deluxe Padded EON615 Protective Speaker Cover Features. Durable 600-D Nylon outer fabric - keeps out dust, dirt, and helps prevent dents & dings. Interior padded with protective foam layer and soft tricot lining.
Handle cut-outs provide access to built-in cabinet handles. Printed JBL logo on front panel to compliment your JBL EON615s. The official protective cover for JBL EON loudspeakers. Yamaha MG10XU 10-Input Stereo Mixer with Effects and UBS. For more than a century, Yamaha has been building a legacy of superior craftsmanship and innovation exemplified in all of their products, from an unrivalled catalog of world-class musical instruments to touring-grade professional audio. Now in its third incarnation, the MG Series embodies this pursuit of design excellence, and incorporates some of the same technologies developed for use in high-end professional consoles, including studio-quality preamps, powerful digital processing, and a rugged, reliable construction. With an intuitive, easy-to-use interface, the MG Series boasts an extensive lineup of compact mixing consoles with models ranging from six to twenty channels, suitable for a diverse range of users and applications.
For installed, recording, or live music settings, the solid construction and flexible design of these consoles lets you shape your sound with confidence, continually delivering peak performance and a level of sound quality and reliability unrivalled in its class. Yamaha has always strived to provide sound engineers with the purest possible signal instead of added processing or color to give it a "signature" sound, and the MG Series is no exception. Embracing this philosophy of transparent sound, these mixing consoles deliver a level of sonic purity and sound quality that is unmatched in their class. The MG10XU features high-quality built-in signal processing effects that are in the same league as the famed SPX effect processor series. Applying effects allows you to simulate the acoustics of different performance environments.
Yamaha MG10XU 10-Input Stereo Mixer with Effects and UBS Features. 4 Mic / 10 Line Inputs 4 mono + 3 stereo. "D-PRE" mic preamps with an inverted Darlington circuit. PAD switch on mono inputs.
Dimensions(WxHxD): 244 mm x 71 mm x 294 mm 9.6"x 2.8"x 11.6. Net Weight: 1.9 kg 4.19 lbs. D-PRE (Discrete Class-A Mic Preamps) This is where it all starts. Everything you do as a sound engineer is dependent on the quality of your preamps, which determines the direction your mix will take, and ultimately how good it is going to sound.
MG Series mixing consoles feature Yamaha's studio-grade discrete class-A D-PRE preamps, which utilize an inverted Darlington circuit comprising two cascading transistors in a configuration that provides more power with lower impedance. Delivering fat, natural sounding bass and smooth, soaring highs, with very low distortion, D-PRE preamps possess an impressively wide frequency range that allow them to handle signal from any audio source without overly amplifying any specific elements of the sound. Having such a pure sonic platform to build on will ultimately save you time and effort by eliminating the need for excessive EQing or additional effects processing in order to "fix" your mix. High Quality Sound Op-amp The head amp determines sound quality, and op-amp integrated circuits are one of the most important parts in the head amp circuit. MG01 op-amps feature redesigned circuitry in which even the internal components and wiring have been optimized, and use materials such as high-quality silicon wafers and copper wire to achieve superb resolution.
Switchable Phantom Power & PAD Switch With phantom power, MG Series consoles allow you to take full advantage of the greater frequency response and high sound quality of condenser microphones. The input channel with PAD switch accepts MIC to line level of inputs, PAD Switch attenuates high input signals that often accompany mic'ed instruments during performance, avoiding the clippingthat can seriously affect your mix. When was the last time you heard guitar without EQ or a completely unprocessed vocal on one of your favorite songs? Yamaha mixers are famous for their flat response and sonic purity, but it often takes more than a perfectly-captured instrumental performance or vocal to achieve a professional-sounding mix. Equipped with some of the same state-of-the-art functionality featured on Yamaha's high-end consoles, the MG Series gives you the tools you need to produce high quality sound that is uniquely your own. 1-knob Compressors Compression plays an essential role in just about any recording or sound reinforcement environment by altering the level of dynamics of an audio signal when you need livelier guitars, punchier bass lines, a tighter snare, or a cleaner vocal sound.
However, it can take countless hours to master the complexities of even the most basic outboard compression units and use them effectively. Originally a Yamaha innovation, 1-knob compressors are now an industry standard that gives you instant access to optimized compression settings via a single rotary control. EQ and High-pass Filters There's nothing more useful than reliable equalization when you need nuanced management of your tone. The MG Series benefits from Yamaha's unparalleled experience in designing pro audio gear, featuring 3-band equalizers on all mono channels for precise control of your sound. High-pass filter allows you to eliminate unwanted low-frequency noise, for a smoother, cleaner mix.
AUX / Effect Sends / Group MG Series mixers feature up to AUX sends for expanding your sound reinforcement or recording setup, allowing you to incorporate additional effects, output to external recording devices, or feed to an monitoring system. (except for MG06 / 06X) Master send controls are also provided. The MG06 / 06X, MG10 / 10XU / 10XUF and MG12XUK have a single stereo bus.
All other models additionally feature one or two stereo group buses and outputs that can be used for convenient channel grouping. Assign switches for the stereo and group buses are located next to each channel fader. A variety of input / output connectors All models feature high-quality Neutrik balanced XLR connectors on mono microphone/line channels and XLR equipped stereo channels. Each of the mono inputs is equipped with combo jack and accepts both MIC and LINE level signals. (except for MG10 / 10XU / 10XUF / 12XUK) The function of another two stereo channel vary depending on model: With MG20 / 20XU, XLR accepts MIC level signal and two RCA connectors accepts LINE level signals and can be used either mono or stereo.
Additionally, each of the stereo channel features 2TR in (RCA connectors) and can be used as independent input from external audio sources such as CDs. With XU models, any incoming source that are sent via USB can be assigned to one of the stereo channel. LED level metering Easy-to-read LED level metering allows output levels to be monitored with precision. For gigging, recording, and installed applications alike, your console can be subjected to a wide range of environmental conditions and hazards. Excessive humidity, unstable power supplies, and the rigors of road travel in general can take a serious toll on a mixing console, often causing expensive, time-consuming repairs, and reducing its lifespan. The MG Series has been redesigned with an emphasis on durability, incorporating practical features that offer greater flexibility while ensuring peak performance for many years to come. Metal Chassis Built to last, MG Series mixers feature a rugged, impact-resistant, powder-coated metal chassis, offering an unrivalled level of durability.
With a sleek design contoured for optimal convection cooling, the internal layout separates the power supply from the analog circuitry for superior noise reduction, and further extends the life of the components inside. To further ensure reliable performance, knob control placement above the surface of the chassis diverts any impact or pressure on the knobs to the chassis itself and not the circuit board or components underneath.
Internal Universal Power Supply Thanks to a highly-efficient internal universal power supply, MG Series consoles offer worry-free operation in any region around the globeeven in environments prone to potentially damaging power fluctuations. An internal power supply also simplifies rack mounting of the console for installed applications, eliminating the need for a bulky adapter or additional connections.
(MG12 / 16 / 20 / 12XU / 16XU / 20XU) Optional Microphone stand Adapter "BMS10-A" available. Clutch CL-STPACK Heavy Duty Professional Tripod Speaker Stand Set with Carry Bag. The Clutch CL-STPACK includes two deluxe adjustable height Speaker Stands and a travel/storage bag. The speaker stands are a made from thick wall heavy gauge aluminum and are designed to properly hold the weight of up to 120 lbs. The durable black powder coat finish will help extend the cosmetic life after the rigors of performance and transportation. Easily adjustable with oversized grip knobs to tighten the collars and includes a safety pin to lock in your desired height. The slam protecting spring in the shaft will help against fast drops of the pole. Clutch CL-STPACK Tripod Speaker Stand Set Features. Matching pair set of Heavy duty professional tripod speaker stands.
Adjustable height can telescope from a minimum of 41 inches, to a maximum height of 72 inches (6 feet). Each stand has a 120 lb.
1-3/8 (35mm) diameter upper shaft. Rubber feet to prevent slips and dampen vibrations. Constructed with steel and aluminum. Sleek and stylish black powder coat finish. Oversized grip knobs for easy adjustments.
Perfect for DJ, bands, live performances, karaoke, or public addresses. High quality metal joints and connection junctions. Includes Properly fitting & durable protective double carry bag. 5 Pack of 8 Reusable Hook and Loop Cable Ties. Bring order back to cable clutter. Bundle speaker, power, and lighting cords with these easily adjustable, reusable ties. The simple one-piece self-gripping design wraps onto itself for a secure hold and professional appearance. This Package Includes: (2) JBL Professional EON615 15" Two-Way Multipurpose Active Sound Reinforcement Speakers with Bluetooth connectivity (2) JBL Bags EON615-CVR Deluxe Padded EON615 Protective Speaker Covers (1) Yamaha MG10XU 10-Input Stereo Mixer with Effects and UBS (2) Clutch CL-STPACK Heavy Duty Professional Tripod Speaker Stands with Carry Bag (2) 20FT Sure-Fit XLR Connecting Cables (5) 8" Reusable Hook and Loop Cable Ties Each EON615 Box Includes: (1) JBL Professional EON615 Speaker (1) IEC Power Cord (1) Set Up Guide Each EON615-CVR Box Includes: (1) JBL Bags EON615-CVR Deluxe Padded EON615 Protective Speaker Cover The MG10XU Retail Box Includes: (1) Yamaha MG10XU 10-Input Stereo Mixer with Effects and UBS (1) AC Power Adaptor (1) Technical Specifications (1) Set of Cubase AI Download Information (1) Owner's Manual The Clutch CL-STPACK Retail Box Includes: (2) Clutch CL-STPACK Tripod Speaker Stands (1) Clutch Durable Tripod Speaker Stand Set Carry Bag The XC-T5 Box Includes: (5) 8 Reusable Hook and Loop Cable Ties. Self powered 15, two-way, bass-reflex.
46.8 Hz - 20 kHz. 50.8 Hz - 20 kHz.
1000 W (2 x 500W). Dimensions (H x W x D). 708.025 x 428.625. X 368.3 (mm) 27.875 x 16.875 x 14.5 (in). 17.69 kg (39 lbs).
Interior padded with protective foam layer and soft tricot lining. Handle cut-outs provide access to built-in cabinet handles. Printed JBL logo on front panel to compliment your JBL EON615s. The official protective cover for JBL EON loudspeakers. Durable 600-D Nylon outer fabric - keeps out dust, dirt, and helps prevent dents & dings. 80 Hz, 12 dB/oct (Mono).
1-knob compressor Threshold: +22 dBu to -8 dBu, Ratio: 1:1 to 4:1, Output level: 0 dB to 7 dB, Attack time: approx. 25 msec, Release time: approx. Gain: +15 dB/-15 dB, Frequency: 10 kHz shelving.
Gain: +15 dB/-15 dB, Frequency: 2.5kHz peaking. Gain: +15 dB/-15 dB, Frequency: 100 Hz shelving. LED turns on when post EQ signal reaches 3 dB below clipping. 2 x 7 -segment LED meter [PEAK, +10, +6, 0, -6, -10, -20 dB]. 128 dBu (Mono Input Channel, Rs: 150?
102 dBu (STEREO OUT, STEREO LEVEL knob: Min). PA-10 (AC 38 VCT, 0.62A, Cable length = 3.6 m) or equivalent recommended by Yamaha. 1.9 kg 4.19 lbs. Included Accessory: AC Adaptor, Owner's Manual, Technical Specifications, Optional Accessory: Mic Stand Adaptor BMS-10A.
Operating Temperature: 0 to +40? Thousands of Items in Stock.
Any use of this material including all content, images and design, without prior written consent from IDJNOW, is strictly prohibited by law. This listing is currently undergoing maintenance, we apologise for any inconvenience caused. The item "JBL EON615 15 Powered DJ PA Loud Speakers Pair with Yamaha MG10XU Mixer Package" is in sale since Wednesday, February 13, 2019. This item is in the category "Musical Instruments & Gear\Pro Audio Equipment\Speakers & Monitors".com" and is located in Ronkonkoma, New York. This item can be shipped to United States, Canada, United Kingdom, China, Mexico, Germany, Japan, Brazil, France, Australia, Denmark, Romania, Slovakia, Bulgaria, Czech republic, Finland, Hungary, Latvia, Lithuania, Malta, Estonia, Greece, Portugal, Cyprus, Slovenia, Sweden, South Korea, Indonesia, Taiwan, South africa, Thailand, Belgium, Hong Kong, Ireland, Netherlands, Poland, Spain, Italy, Austria, Bahamas, Israel, New Zealand, Singapore, Switzerland, Norway, Saudi arabia, Ukraine, United arab emirates, Qatar, Kuwait, Bahrain, Croatia, Malaysia, Chile, Colombia, Costa rica, Panama, Trinidad and tobago, Guatemala, Honduras, Jamaica, Barbados, Bangladesh, Bermuda, Brunei darussalam, Bolivia, Egypt, French guiana, Gibraltar, Guadeloupe, Iceland, Jordan, Cambodia, Cayman islands, Sri lanka, Luxembourg, Martinique, Maldives, Nicaragua, Oman, Peru, Pakistan, Paraguay, Reunion, Viet nam, Uruguay.
Brand: JBL
Type: PA Speaker System
Model: EON615MG10XUPACK
MPN: EON615MG10XUPACK
Active/Passive: Active
Features: 2-Way Configuration
Bundle Listing: Yes

---